20 Jan

Evidence for Sustainable Food Systems at Three Scales

Posted at 10:46h

in

Affordability

,

Animal Food Sources

,

Climate

,

Cost

,

Diet

,

Food Sourcers

,

Food Systems

,

Health

,

Livestock

,

Nutrition

,

Production

,

Sustainability

,

Vegetable Food Sources

The future of the food system is a major topic of conversation with various voices advocating the need for a range of changes, with some being quite radical. Historically the focus on the global food system was on providing enough nutrition for those in most need. This has transitioned to many advocating a need for the food system to change to address issues that are a consequence of wider human activities.

When we talk about the food system what are we referring to? What are we talking about changing? And how do we understand the potential impact of changes? This Thought for Food considers three different scales at which we can consider questions around the food system and the work the Sustainable Nutrition Initiative (SNi™) is doing to support this, in line with our recently adopted vision "evidence for sustainable food systems".

Conversations about the future of food usually fit within one or more of the following areas:
Nutritious, affordable and sustainable diets for individuals
National use of environmental and other resources for food production
Sustainability of global food production and distribution of food to address the nutrient needs of everyone
Each scale has its own unique questions and challenges that need to be understood and addressed.
At the global level…
We will start with the large scale first. How does the world feed the world?
What food production is required to provide adequate nutrition for everyone?
How does this change as global population continues to increase?
What are the resource implications of this at a global level?
What are the impacts of large-scale changes in food production?
How big are the changes needed to be globally relevant?
In one sense the global scale question is easier to frame than the two smaller scales. There is only one Earth – there are no interplanetary trade flows to cover shortfalls or utilize surpluses – everything must balance within the planetary boundary. The total nutrition available is determined from the production of food commodities, and further processing and food formulation is largely a reorganization of the form in which these nutrients are presented to consumers.
The DELTA Model was developed to contribute to this global scale conversation by enabling a user to set the level of production for the major classes of food commodity and see the likely impact of this on nutrient supply for the global population. When we consider making changes to production on the global scale, we must also match this with an appropriate timeline of multiple years. The original version of DELTA provides significant insight on the role of the different primary production systems in providing nutrients to the global population (learn more here). A key conclusion from all our work to date with DELTA is that the global food system is, and must remain, "plant based and animal optimized."
Further development of DELTA focuses on adding estimates of resource footprints for the selected production systems, starting with cropland use in DELTA 2.0 (learn more here). Consistent with the scenario "what if" concept of DELTA, the model does not enforce a hard constraint on production based on available land, but instead provides feedback to the user on the extent to which their proposed food system is feasible within the land area suitable for crop production.
Beyond 2.0 we will introduce additional resource footprints into DELTA, including greenhouse gases and the use of land for ruminant grazing. At the same time, we are looking at how we make better use of the more detailed food commodity and use data made available by the FAO towards the end of 2020.
An aspect that was part of the original concept of DELTA was to consider economic aspects of the food system. A key challenge that is neglected in the discussion of many high-tech alternatives is the level of capital investment required to establish these technologies at a scale that would make a material impact on global nutrient supply, and the implications of this for the cost of the resulting nutrition (learn more here and here).
At the individual level…
At the other end of the scale is individual dietary choice.
How can individuals within our society access the nutrients they need?
How is this impacted by the price of food items?
How do their choices impact on the environment?
How do choices potentially alter health outcomes?
These are questions that individuals may ask for themselves and are also relevant in the development of public policy. Potential outcomes include changes in dietary guidelines or changes in individual eating habits.
There is considerably more scope for an individual to change their diet than there is for change at the global scale. At the individual level a radical shift in diet may be made quickly and has no discernable impact on the food production system and supply chain. It is only when large collections of individuals make similar changes that this has an impact on the availability and affordability of food items, and the feasibility of these choices (learn more here). Whilst the global nutrition question is constrained by the boundaries of the planet, the individual nutrition question is limited by the range of foods available locally, and the wealth and choices of the individual.
Riddet Institute researchers used linear programming to determine the minimum cost for a nutritionally adequate diet based on a basket of food products in the USA (learn more here). Work in the Netherlands led to the development of Optimeal™, which starts from the Dutch reference diet and explores the impact of restricting the intake of certain foods on the carbon footprint and price through an optimization that seeks to remain close to the reference diet in terms of foods eaten thus addressing some of the cultural aspects of dietary change (learn more here).
Building from these ideas we aim to create an online tool to enable people to explore individual dietary choice, what levels of dietary change may be possible and practical, and the resulting impacts in any country for which the required food product information is available. The aim is to make it easy to customize this for use in any country for which the required food product information is available. Unlike DELTA, where the default time is currently 2018 for the base case and 2030 for the initial projections, the individual model (to be called IOTA) will work in an immediate sense (i.e., If I changed my diet today…).
At the national level…
In between these two extremes sits the national level question:
What is the best use of our natural resources?
How should we best utlise our land?
What should we grow or produce ourselves?
What do we export? What do we import?
How does this influence our environmental impact?
This is more complex than either the global or individual scales due to the movement of food items across borders. Food trade exists at some level for almost every country in the world: there is not the same hard boundary that exists on the global scale (i.e. only one planet) that requires domestic self-sufficiency for any given nation. Nutrient gaps can be addressed through imports and surpluses addressed through exports – although this only partially occurs today. Food trade occurs when one nation has to offer what another wants, so the options are constrained, although wealthier countries are better able to purchase what they want. As the DELTA Model shows at a global level, we already produce enough food energy and protein to meet the needs of the expected 2030 population, however not everyone has equal access.
Our current work at the national level is to understand the present state of food production and trade flows expressed as bioavailable nutrients rather than mass of food items. This provides a human nutrition centric perspective. The following charts from DELTA show, from a food energy perspective, the production, trade flows and consumption for New Zealand, Australasia, and Oceania.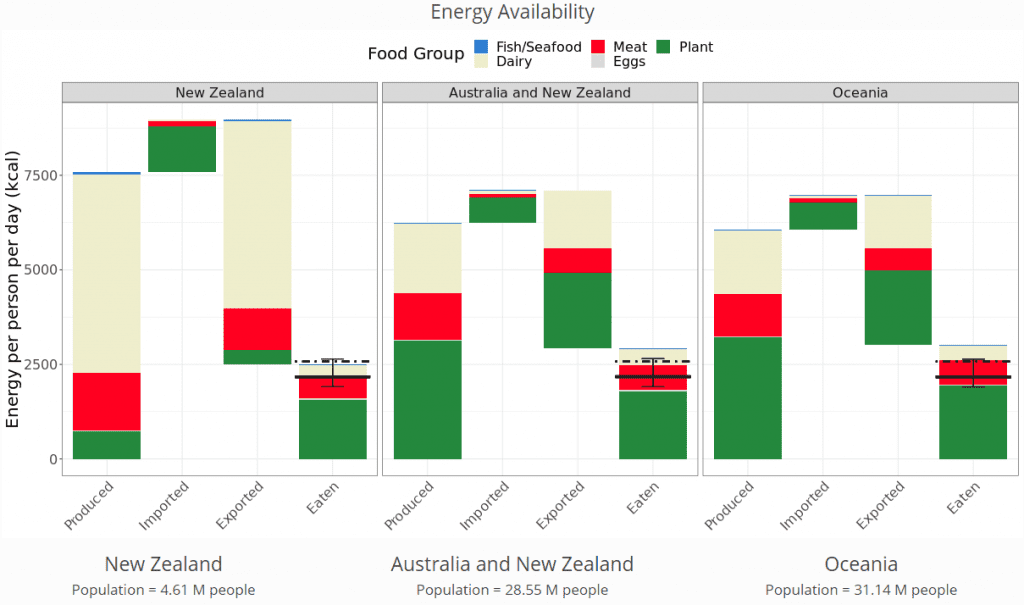 The "Produced" column shows the per capita per day production of energy in the country or region. Oceania is dominated by the food exporting nations of New Zealand and Australia and there is a considerable surplus of food energy at both the regional and sub-regional scales. However, when we just look at New Zealand, we see a significant import of plant-based food energy. Similar charts are available for all 29 of the nutrients considered in DELTA, in all countries. Taking this a stage further, with our collaborators at University of São Paulo we are looking at flows of bioavailable nutrients between exporting and importing countries to show the evolution of the trade network.
Whilst the above helps to understand the current state of nutrient flows, it does not address the questions about most effective use of a country's resources (environmental, social, economic). To do this, we are developing a proposal for multi-year research to investigate the national and sub-national questions, using New Zealand as a test-case. This will lead to the development of an integrated model framework that connects primary production and food trade decisions with their associated resource and economic implications, through to consumer nutrition and associated health and wellness outcomes. The objective is to develop a model that works for New Zealand and can, through changing the data inputs, be applied to other countries.
As with DELTA, the approach will be scenario-based, with users specifying a potential system and the model estimating the implications of this system in terms of the various capitals. By doing this we hope to contribute additional evidence-based insights to national and local conversations about food systems.
All three scales are important and complementary
The food system must function at all scales from the global, through the national, to the individual level. Each has unique characteristics and challenges that impact on our ability to make changes. Aspects that are easy at one level, create complications at another.
Importantly, no one perspective will deliver a full understanding of the food system and the way forward to greater sustainability.
An individual's diet that is healthy, affordable and has a low environmental impact will not necessarily be applicable more widely.
National level food preferences and cultures, as well as what can be produced in a country, will mean that variation must exist between healthy and sustainable diets and food production in different parts of the world.
Similarly, it is not sufficient to understand what sustainable dynamics are for a single country, as countries do not operate in isolation: international food trade and global production must also function sustainability.
SNi is developing tools to help people explore food system challenges and provide evidence for sustainable food systems at all three scales.